We Keep Businesses Open and Profitable.
Chapter 11 Business Bankruptcy Attorney.
Virtual Appointments Available.
We Keep Businesses Open and Profitable.
Chapter 11 Business Bankruptcy Attorney.
Office Locations Throughout: Los Angeles, San Diego and San Bernadino.
Virtual appointments available.
Chapter 11 Subchapter 5 Bankruptcy Can Immediately Return Your Business to Profitability by:
Reducing or even wiping out your SBA loans.
Eliminating personal guarantees.
Stopping lawsuits.
Reducing or even wiping-out unsecured debt.
Repaying only what equipment is worth.
Maintaining key vendor relationships.
Rejecting unprofitable contracts and/or leases.
Unsure if Chapter 11 Subchapter 5 is the Right Move For Your Business? Let's Explore Your Options. The Consultation is Free:
The Federal Bankruptcy Court of The United States WANTS Your Business to Succeed!
What is the reason your business is currently not profitable? Why are you not enjoying the income you have enjoyed in the past?

If the answer is because of EIDL-SBA loans, merchant cash advance loans, bad contracts, unsecured debts or secured debts, Chapter 11 Subchapter 5 could return your profits on the same day you file. It can work that fast.
What is Chapter 11 Subchapter 5 Bankruptcy?
Chapter 11 Subchapter 5 is the new, cheaper, streamlined, more effective and more desirable version of Chapter 11 bankruptcy. Enacted in 2020, Subchapter 5 was added to Chapter 11 to make bankruptcy reorganization more accessible and effective for small to medium sized businesses that desire to stay open. Subchapter 5 laws are almost too lenient in favor of some business owners. Some business owners may be able to overnight transform struggling businesses laden with debt into highly profitable businesses at the expense of their creditors. Subchapter 5 laws might be overturned for this reason if enough businesses file. The time to get a Subchapter 5 case on file is now. If Subchapter 5 is removed, the bankruptcy format for businesses will return to the undesirable state of the base Chapter 11 laws. Due to the complexity and time required to prepare a Subchapter 5 filing, our firm takes on a limited number of filings each month. Chapter 11 Subchapter 5 can be the difference between returning a business to profitability and liquidating a business. In short, if your business status is in question and you may have to close, Chapter 11 Subchapter 5 could be the answer.
Bankruptcy Laws Were Designed to Keep Businesses Open.
Chapter 11 Subchapter 5's mandate is concise and clear to those who understand the laws. It is: When possible, keep businesses open and operating so the public will have access to goods and services and the business owner will make a fair profit. It is our job as your attorney to make sure that your profit is as much as fairly possible! The court wants you to succeed.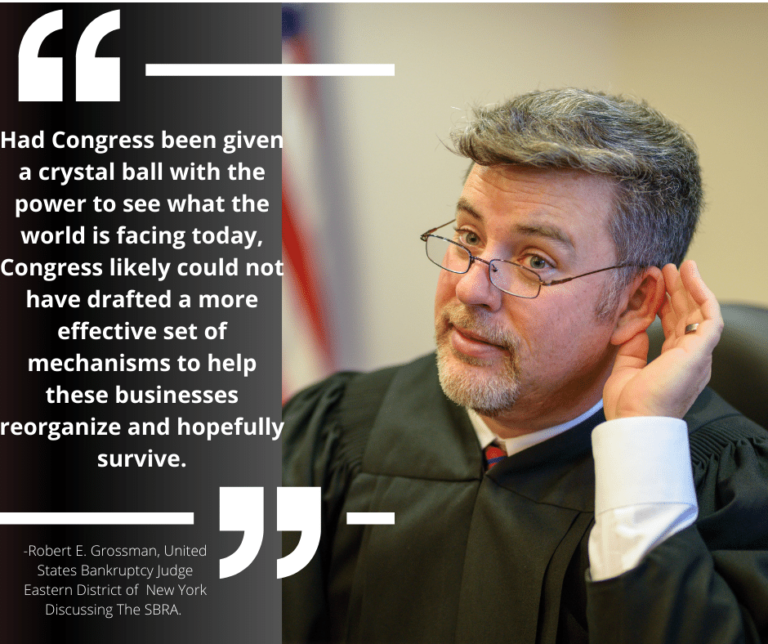 Personal guarantees can be eliminated.
The repayment of almost all business debt is personally guaranteed by one or more of the business' owners. Wiping out business debt will not mean much if the creditor can get paid from the wages or property of the personal guarantor. The key is knowing how to use recent changes to California law to "take the bite out of" the personal guarantees.
The key is the Small Business Reorganization Act (the "SBRA").
For many California businesses, post-pandemic income is down, sometimes way down, and business debt is higher because of the loans needed in the last year to stay afloat. If reducing or eliminating business debt can make you profitable again, we need to talk. The Small Business Reorganization Act can end the downward spiral– purchase contracts written down to the value of the equipment purchased. Wipe out credit card and other unsecured debt. Reject unproductive leases. Pay back taxes over time.
To avoid the financial ruin that personal guarantees or a failed business can cause is surprisingly affordable. The down payment is negotiable. The balance of the fees and costs are paid, typically, over 12 to 36 months. The attorney's fees and costs are always a fraction of the money saved. The issue really boils down to whether the personal guarantees can be wiped out, the business saved, or both. Call now or use our convenient contact form and a knowledgeable member of our team will get right back to you.
Key Suppliers of Goods or Services and Their Role in the Reorganization Process.
Summary: The key supplier issue is one of the most common in any business reorganization, and bankruptcy law has procedures built in so that a critical vendor gets paid in full on pre-bankruptcy invoices even when other similarly situated creditors do not. In turn, getting paid in full is conditioned on the critical vendor continuing to provide goods and services to the reorganizing business thereby giving the reorganizing business a realistic "path forward". In order to minimize disruptions to the business, "critical vendor" issues are almost always resolved by Court order within one (1) month of filing.
The following issues come into play:
Has the reorganizing business obtained new financing in contemplation of the bankruptcy filing—so called "Debtor-in-Possession" or "DIP" financing? New money is easier to obtain than one might believe given DIP lenders have a "super-priority" position. This new funding can often keep the goods and services flowing to the reorganizing business.
Does the supplier have "reclamation" rights and are they going to assert them? Post-supply circumstances, practical realities and a reorganizing businesses defenses typically render "reclamation" rights illusory.
Did the supplier provide goods or services with 20 days of filing thereby giving them special priority? This priority typically means they get paid in full and before almost all other creditors.
Was the supplier providing goods or services pursuant to a contract? If so, post-filing the reorganizing business usually controls whether the supplier must continue to honor the contract even where the supplier has not been paid in full on pre-filing contract-based deliveries.
Which lenders and suppliers have liens on the businesses inventory, property, and receivables and in what order? Liens are typically evidenced by UCC-1 filings. A complete understanding of the lien matrix is critical.
If the goods are "in transit" on the day of filing, can the supplier "turn the truck around"?
Each of these factors must be closely analyzed- and quickly- to, firstly, avoid unnecessary disruptions to business operations and, secondly, to put the reorganizing business from the outset firmly on the path to profitability. To find out more about the role of your company's critical vendors in a potential reorganization call today to schedule a free, no obligation consultation.
"The only source of knowledge is experience." -Albert Einstein.
"Counsel, you did a wonderful job on this case." -Federal bankruptcy Judge to our lead attorney Steven E. Cowen upon the successful confirmation of a Chapter 11 Plan of Reorganization.
We have the knowledge because we have the experience- The Debt Solution Law Group is only one of two law firms to successfully obtain Court approval of a business reorganization plan in San Diego and Imperial Counties under the Small Business Reorganization Act. In that case, $1,060,000 in debt was written down to $148,166 and that includes all professional costs and expenses. At the confirmation hearing in open court the presiding judge was quite complementary of our work noting, "Counsel, you did a wonderful job on this case."
"I could not have asked for better service. The process was handled extremely well and the staff is very welcoming and accommodating. Thank you for the help!"
"Steve Cowen from day one made sure to be straightforward, honest, and friendly. I felt comfortable and taken care of through the entire process. "
"Steven Cowen is the best! I was nervous about filing and had lots of questions. During my first meeting with him, he was easy to talk to and answered all my questions with NO judgments! He made filing so easy and affordable, unlike the other lawyers who want a lot of cash up front."
Are you ready to reduce or eliminate your business debt and personal guarantees?
Give us a call or leave your information on our contact form. We have knowledgeable staff standing by to assist you.